Okay quick overview, I am setting up a 55g reef for my school, it is "mine" and im putting it together/ caring for it. But the whole thing is under the schools budget. So I have over a grand to put together the coolest reef ever :woot: .
Day 1:
Okay this already happened but ill start from scratch. I went to my LFS store and I bought a 55g w/stand. I set the tank up overnight and its just sitting there. I don?t have pics from today.
Day 2:
I brought in my personal 10g freshwater and 10g nano reef for the schools use.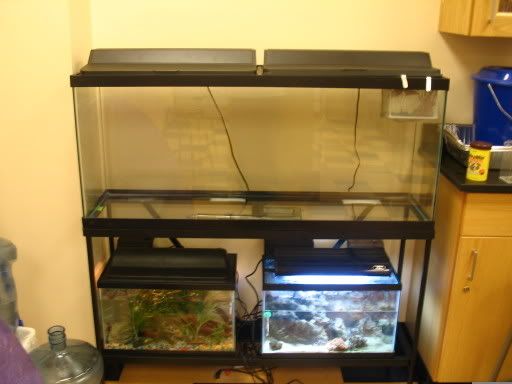 The freshwater tank is a planted tank with all low light plants and no special lighting. it has an assortment of tetras and white clouds, nothing big.
the tank has a tetra whisper filter for a 20, a heater some rocks, nothing really amazing.
The nano has no Fish in it, but has about 20lbs of live rock and live sand and is home to a blue maxima clam, some brown polyps and some mushrooms, its not finished because im always working on it. it has 2 filters a tetra 30 and a tetra 10, a heater, and a PC lighting system with about 55 watts of lighting.