Yes, I know. I'm terrible. It was sort of an impulse buy - but one advised by a good herper friend.
Meet Frankie. He's a land hermit.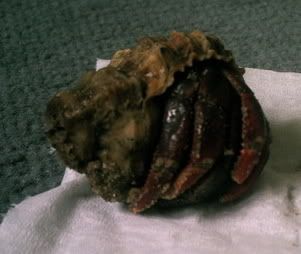 At the moment, he only has a temporary tank, as things are a little manic with the moving etc. But he's enjoying being free-range for an hour or so when I'm there!
I will be setting him up a nice shiny new tank when I a ) have the time and b ) have the materials, but he's coping nicely at the moment. I'll be taking him some new shells when I go back next week as well.
He's great fun, likes sniffing stuff and digging. I've had him climbing hands too - so give me another week or so with him, and he'll be fully hand tame. Cheeky little devil!