After nearly 35 years of keeping "some" fish, 5 years ago my wife and I were able to purchase a house that had a garage with an attached woodworking shop. There is also a 2-car carport on the property....so one of the first things we did upon moving here was to get all my tanks (I had about 5 or 6 at the time) set up out in the garage, and it officially became my "fish room". Now there was no "master plan" for putting this together...I didn't really know what size or how many tanks I was going to end up with. In fact, most of my tanks came from yard sales or I otherwise bought secondhand.
I give you all this "background info" because, while this probably isn't what most people would call a good looking room (the non-fishhead kind of people), it's my favorite place in the world to be. Gots me a refrigerator (to keep frozen fish food, but it comes in handy for "beverages" also) and my cd player, a stressful day at work just kinda disappears after an hour or so out here.
First pic is gonna be what you would see as you walk in the front door. Notice the 55 metalframe tank...picked it up at a yard sale, re-sealed it, it is now home to a group of convict cichlids and 3 clown loaches. To the right of that was my Tanganyikan tank, housing leleupis and brichardis, that tank currently houses South American cichlids and a pacu. In the background you can see a stack of empty 15 gallons, cleaning and setting these up as I need them.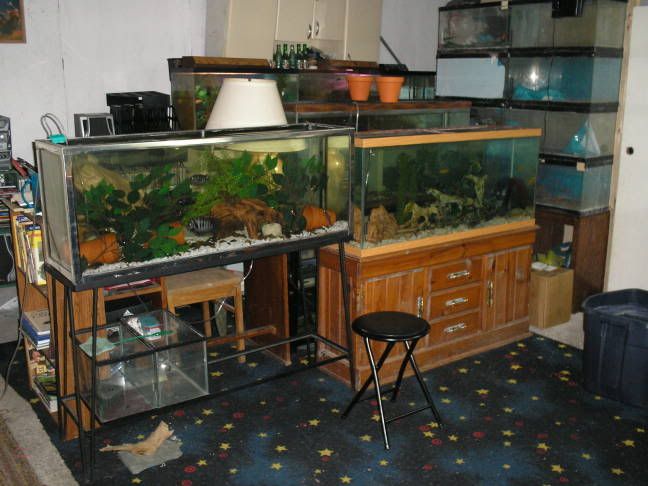 This picture is of the same room, but if you looked to the right as you were coming in the door, you would see this, my 125 gallon saltwater tank. I think at the time this was taken, I still had my tasseled filefish (an absolute favorite of mine), also a stars and stripes puffer, bird wrasse, yellow tang, pearlscale butterfly, and a couple blue damsels. The fifty breeder next to that has since been converted to saltwater also. The fifty breeder closest to the left edge of the picture is where my brichardis eventually ended up being moved to. They have spawned several times in this tank. All the tanks underneath the 125 are currently empty.
These tanks are in the same room, but along the wall to the left as you walk in (behind the tanks in the first picture). There are two 29 gallon tanks here, with a 15 sandwiched between them. I don't remember what was in them at the time this picture was taken, there are currently electric yellow labs in one of the tanks, a senegal bichir and an albino senegal living in another of the tanks, and a growout batch of highfin blue parrot variatus platys in one of the others.
Facing the tanks in the last picture (butted up behind the tanks in the first pic) is my writing desk and this 55 gallon growout tank of more hifin blue parrot variatus. There is also a 40 gallon underneath this tank, which just recently became vacant, not sure what I will end up putting here.