Let me first start out by explaining how this tank came into play. Well as some of you may know I have had a 55 gallon FOWLR tank running for about 6-7 months which is great but I really wanted to try my hand at coral but didn't want to spend alot of money on upgrading my lighting so I decided to downgrade to a 20 gallon long. I originally had 4 fish in my 55 which consisted of 1 Firefish, 2 Ocellaris Clownfish, and 1 Sandsifting Goby but obviously I couldn't keep all those fish in a 20g tank so I only kept the Firefish. Don't worry the other fish found good homes with local reefers.
I transferred most of the sand from the 55 which gave me a nice substrate depth of 1.5" to 2" in some areas. I am going to install 2x65watt PC's which came from my Current USA fixture. I would maybe like to add another small fish sometime in the future, as well as a Cleaner shrimp. I placed both Maxijet 1200's in the tank and turned them on and imo it is too much flow for only softies and a few LPS so I will place them on timers so only one powerhead will be running at a time. I will list specifications but Everything is from my 55 gallon tank including the water.
Equipment:
20 gallon long tank (30"Lx12"Wx12"H)
DIY canopy with 2x65watt PC lighting installed
AquaC Remora protein Skimmer
2 Maxjet 1200's
11lbs of Fiji live rock
Roughly 30lbs of fine white sand
Inhabitants:
1 Firefish
1 Strawberry Crab
1 Whelk
1 Strombus Snail
2 Cerith Snails
4 Nassarius Snails
4 Astraea Snails
Future Coral Plans:
I will keep softies and LPS in this tank. My rough list of coral that I would like to keep:
Zoos
Mushrooms
Candy Cane
Frogspawn or Torch
Brain
Favia
Xenia
Canopy is pretty much finished but I still need to purchase a couple hinges and will probably install a fan. Here are a couple pics of the inside of the canopy.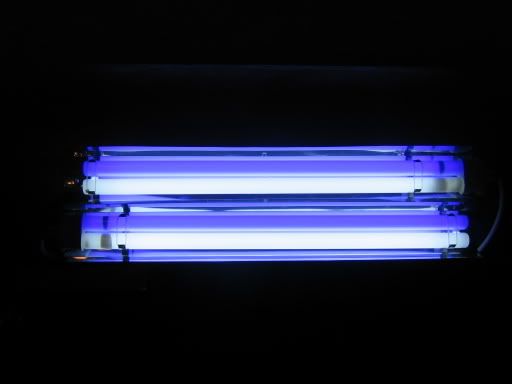 That is it for my introductory post on chronicling the process of my 20 gallon reef tank. Comments are always welcomed.