I don't know if this is an emergency or not, but it's something that to me looks really odd. Two of my female guppys are both really heavily pregnant, and both normally give birth within days of eachother. This month they both look alot bigger than they normally do at the latter stages of their pregnancys. I take it this is normal as with each brood (or is it litter?) they generally have more and more.
Well one of the females is looking really odd. It's as if her birth canal is sticking outwards. Fairly similar to that of a female Angel who is preparing to lay her eggs, only my guppy looks a little more swollen down there. The thing sticking out is definitely tube-like in shape, although it's hard to see this in the pics.
Is this normal? Perhaps I disturbed her about to give birth? She came up for food and that's when I noticed it.
Here are some pics... Thanks in advance. -_-
<a href='http://i57.photobucket.com/albums/g225/dookie_photo/DSCN2986.jpg' target='_blank'>
</a>
She is bottom left..
<a href='http://i57.photobucket.com/albums/g225/dookie_photo/DSCN2982.jpg' target='_blank'>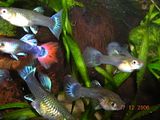 </a>